Robot Development
We are developping Robot-Type Watching System for senior person who can live with worthwhile life and safety life even if they live alone. This project is supported by SME's budget in 2013(Production and Commerce of Innovation Project by Small and Medium Enterprises Agency)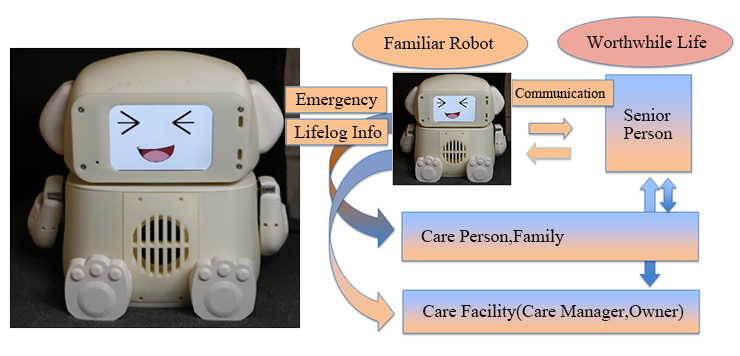 Winning prize of business contest by Ota-ku, Tokyo
Field theme:Social business community business
Business plan name:Watchover robot with interactive daily dialoguefor elderly person's health support

【Business plan】
This robot is for elderly people of nursing facility and home care watching to bringmental care andindependence support for elderly person by daily life conversation.

We develop and produce a low price wach over robot that can analyze elderly person's information from daily conversation and transmit the health condition of the elderly person to care person and their family.

【Manufacture】
Robot can urge elderly person to talk and act every day and promote the independence support.

Analyze life log information provided from talks and action of the elderly person in real time and communicate with care person and family. This technology enableswaching support and emergency support.

The part of the face adopts smartphone and makes the expression of the face to a screen.

The expression of the face has a characteristic to change by the contents of the conversation.

Hands and feet part and the whole part can do movement expression using small precisive servomotor

This robot can express by hands and feet with conversation. We plan cooperation with Ota-ku manufacturing company in manufacturing.

【Market】
The target ismany families having elderly people in nursing facility or living alone in the distant place.

We plan the improvement of market inspection and service backup for the needs expansion and plan the market expansion to nursing facility.

We plan some testing and examination for nursing facility of Ota-ku, Tokyo.

We examine the manufacture of the robot partner offering community-based information
and overseas development.